SUPERCUT
CUTTING EDGE TECHNOLOGY
---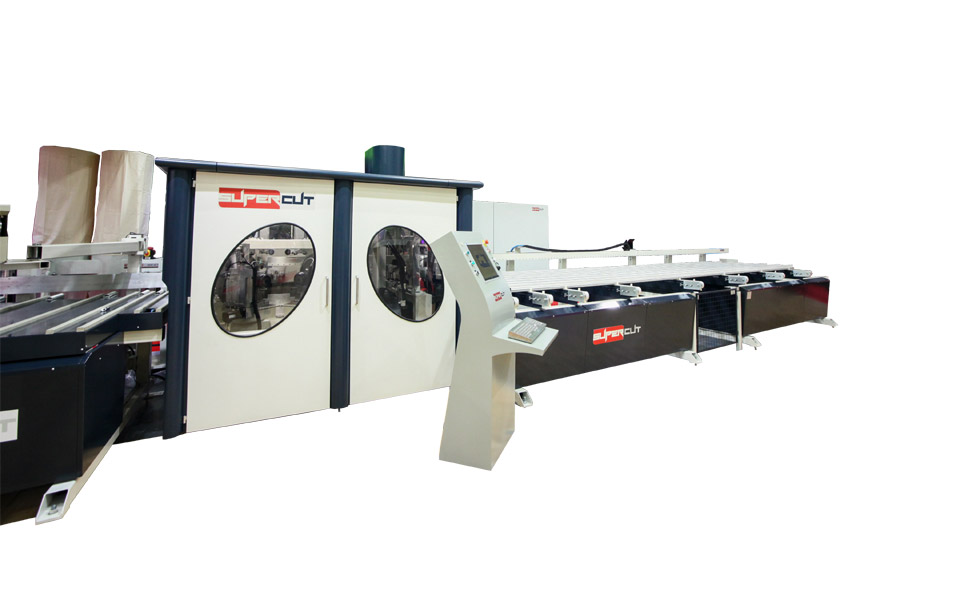 Description
The latest machining centre for PVCu profiles, the Supercut is a high end machining centre which is custom built for the UK and Irish PVCu window industry.
The Supercut range of machining and cutting centres brings in a new era in the supply of machines for the PVCu manufacturer. Available in either Supercut 5 or Supercut 6 formats with feeds from either right or left, the Supercut Machining Centre provides you with the ultimate in flexibility for your production.
The Supercut range utilises Jetmove 200 axis drives and control systems, along with freely programmable and full interpolation axis movement software. Its bespoke Axis 2013 database operating system was developed exclusively for the Supercut range by Jetter and Schmidgall.
Auto-measuring and re-optimisation for off-cuts
Automatic 10 bar in-feed table
Fully integrated dynamic batch optimisation software
Windows 7/64 bit software
10/12 programmable routing motors
Zebra thermal label printer
Twin bag extraction
Waste conveyor for easy waste removal
All parts available from stock
Dedicated engineers for online and telephone support
TECHNICAL DATA
Working Voltage
400 V 50 Hz
Drawing of Current
25 A
Electrical Power
30 CW
Feeding Min.
5 x 4,00 qmm
Starting Fuse
32 A
Operation Connecting to Ground Min.
6 qmm
Sound Level
<= 85dB(A)
Consumption of Air
Ca. 850 l/min
Compressed Air Connection
5 x G¼
Working Pressure
8 bar
* We accept no responsibility for any error or omission