The 2019 FIT Show is right around the corner, and this year, visitors to the NEC can expect something different from Avantek Machinery. Going bigger and better than ever before, here's what you can expect from the cutting-edge window fabrication machinery company.
World Class Service
From 24/7 support to going above and beyond for its customers, Avantek Machinery is known for its dedication to fabricators – regardless of what systems company they use. One of the only stockists to keep specialist window fabrication machinery in stock and ready to deliver, Avantek has helped fabricators find tooling for their profile system in a few days, when their systems house gave them a lead time of several months. It's service like this, which keeps fabricators coming back for more. Isn't it time you discovered the Avantek difference?
Innovation and Investment
The theme for Stand J10 is the commitment that both Liniar and Avantek have to their customers, based around two cornerstones: innovation and investment. Group Marketing Director Sue Davenport commented, "Avantek Machinery and sister company Liniar are both proud to be part of the Quanex group, who've continued our philosophy of ongoing investment in facilities, plant, machinery, people and stock. Although the two companies are run separately, they share the same positive culture and commit to the same consistent levels of quality and customer service."
What to expect
At previous FIT Shows, Avantek has demonstrated a group of machinery from different brands, including its unique Supercut cutting and machining centre. This year, with the focus firmly on innovation and investment, the Avantek team will be showcasing their capabilities and approach, alongside some of the most innovative machinery to hit the market in 2019.
Visitors to Stand J10 will see Liniar's brand new Resurgence double-rebated flush sash window, displayed together with the latest Timberweld™ machinery offered by Avantek. Just one of the possible finishes for this revolutionary system, the Timberweld™ allows this timber replica window to be welded with a square joint on both sides, providing an authentic, stunning finish.
Building skills
Also on the Avantek stand will be demonstrations of a fully automated 4-head welder. Those new to automation will be surprised to learn they could put an apprentice or junior team member on this machine and get the same quality results as an experienced welding expert – allowing them to redeploy skills into other areas. This machine fits nicely with Avantek's own ethos of building skills within the industry and attracting young people into fenestration.
Avantek's own Supercut 6 cutting and machining centre will also feature, but not as you know it.
Visitors will be able to get an up close and personal view of the Supercut's features while also finding out about how it can streamline their fabrication and boost their productivity.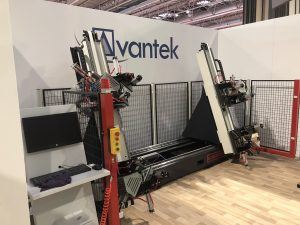 Another brand new machine will also be demonstrated on the stand, together with an overview of the full range of brand new machinery Avantek can supply.
The Avantek team will be on hand to answer your questions and let you know how quickly you could have your chosen machinery from Avantek installed and ready for operation. Hint: it's way faster than you might think!
Two brands in synergy
Avantek's Nigel Bishop comments, "At the 2016 FIT Show, we brought Liniar and Avantek onto the same stand for the first time. This meant we were able to demonstrate the benefits of working with two industry-leading brands in synergy.
"We followed this pattern in 2017 as the strategy had proved to be hugely successful; both brands could introduce fabricators to each other, and customers could see the benefits resulting from a one-stop solution for streamlined window and door production.
"2019 will be no different, with the Avantek zone of this years' stand showcasing the unique proposition our company brings to the fenestration industry – supplying the very latest high-tech window fabrication machinery with unbelievably short lead times.
"Our investment in stock and innovation in machine development, combined with the expertise and industry knowledge of the Avantek team, leads to the fastest set-up times for fabricators. I've worked in this industry for many years, and can honestly say that Avantek is indeed unique. I'm also proud that the after-care and support provided by our team of in-house engineers is second to none.
"We're looking forward to inviting everyone at the FIT Show into the world of Avantek Machinery and Liniar, and catching up with colleagues and friends from around the industry. If you've not registered, please remember to get your entry by visiting: http://bit.ly/Liniar2019FIT – and we'll see you in May!"