Having invested in machinery for your window fabrication business, what's the best way to ensure it keeps running smoothly? Making sure you know where to source consumables and spares!
Avantek Machinery has established itself as a leading supplier of state-of-the-art fenestration manufacturing equipment, and also seen significant growth across its extensive range of spare parts and consumables, with turnover doubling between 2021 and 2022.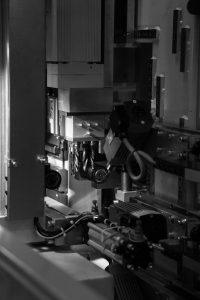 Spares and Services Coordinator Kieran Heywood discusses his role in sourcing the best quality components and getting them to customers on demand, ensuring their production lines run efficiently and effectively.
With over 8 years as a member of the Avantek team, Kieran tells us, "I started with the company as an apprentice aiming to achieve a Level 3 Advanced Diploma in Engineering. Initially, I spent a lot of time on site assisting our Field Engineers with installs and servicing. Besides developing a crucial understanding of the machinery, I also gained insight into how much pressure our customers come under to get things back up and running in the event of a breakdown or stoppage."
He continues, "This has stayed with me in my current role, and one thing I don't like is to keep people waiting. I realise if production comes to a standstill, then companies lose money, so I always make sure as soon as an enquiry comes through, I get straight on it."
Kieran also recognises the size of a component or potential order doesn't diminish its importance. He explains, "We received an email from an overseas customer struggling to source an air fitting locally. They weren't sure we'd be able to help because it was such a small order, but if the part is halting production, it's critical in my mind. It doesn't bother me how small an enquiry is, I always listen to my customers' needs and make sure they're happy and able to maintain productivity."
A keen advocate of building constructive relationships, Kieran states, "The Avantek team always seeks to deliver the best quality products and services, supporting our customers wherever we can. In return we secure repeat business and recommendations. We're all in this together and can help each other grow."
Honest, clear and timely communication is a pillar of relationship building, yet there can be barriers – including some of the industry's highly technical language. But, as Kieran explains, "Where possible we supply customers with machine drawings to help them identify the correct part, and if this isn't the case, we can often work from photographs they send in. This is especially helpful when dealing with new customers or office staff who may not be familiar with the terminology. A picture speaks a thousand words!"
Besides having a highly motivated team, Avantek Machinery also benefits from the financial backing of parent company Quanex. Kieran states, "Being part of a larger organisation allows us to leverage economies of scale and purchase in bulk. This gives me confidence when approaching new suppliers and has helped Avantek establish a network of people keen to work with us and go the extra mile to deliver."
He adds, "We have a vast range of products immediately available from stock. The nature of the industry means it's impossible to hold every single item, but the relationship we have with our supply network means we can always offer our customers very low lead times compared to anyone else."
Kieran concludes by summing up his role as a member of the Avantek team, "I pride myself on sourcing the best quality products from affordable, reliable suppliers, ensuring rapid response times and excellent communication, and getting orders to our customers on time and in full so they can keep their businesses running smoothly and efficiently."
To enquire about Avantek's spare parts and consumables ranges email spares@avantekmachinery.co.uk or visit: https://www.avantekmachinery.co.uk/consumables/