Established in 2009, successful window installation company MF Plastics Ltd found itself in a position that required a more stable, reliable supply chain. Deciding to manufacture their own windows out of necessity, in 2015 the company founded the fabrication operation MF Plastics Manufacturing Ltd. The fabrication company quickly flourished and by 2019 Managing Directors Manuel Fernandez and Mick Crawford were ready to put their efforts into expanding the group even further.
In 2020, the MF Plastics team moved into a new facility three times the size of its original premises – but to complete the expansion it would require new machinery, too. The focus was on machinery that would provide efficiencies to its current fabrication operations whilst continuing to produce the high-quality products the company has built a reputation for producing. After researching machinery companies within the marketplace, MF Plastics turned to its PVCu profile supplier Liniar for an introduction to its sister company Avantek Machinery.
A time for expansion
Manuel explains, "The coronavirus pandemic had an unexpected impact on the fenestration industry – unprecedented demand for windows and doors.
"Prior to our expansion efforts, we'd been in business for a number of years. It was clear that we would need to fully update our production processes to efficiently manage and cope with the increased demand. We'd already moved to a new site across town, which was much bigger than our original premises. Within the first eight months, we realised there was so much more potential – if only we had the right machinery."
Visiting the Avantek showroom
Liniar Sales Director Ken Allen made the initial introductions between MF Plastics and Liniar's sister company, Avantek Machinery. After much research and due diligence, Manuel and Mick made the trip to the East Midlands to visit Avantek's factory and showroom, with the specific intention of seeing the Supercut cutting and machining centre.
Avantek Machinery Sales Director Jamie Munday provided a demonstration of the Supercut in operation whilst explaining in detail the features and benefits of this cutting-edge machine. Manuel was impressed: "The Supercut seemed to fulfil the requirements of what we were looking for and the Avantek team instilled confidence in their ability to supply and deliver the aftercare package, which was really important to us."
"Once we'd witnessed the Supercut in action, we were faced with another decision," continues Manuel. "We decided to invest again and move our fabrication operation to an even bigger facility – one that was large enough to accommodate the Supercut."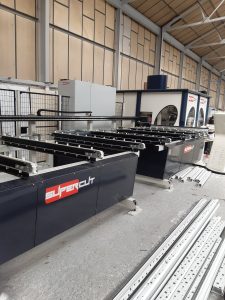 The 50th Supercut
The Supercut ordered by MF Plastics turned out to be the 50th Supercut cutting and machining centre sold by Avantek Machinery in just five years – a milestone for the company. It was originally planned to be delivered in March 2021 – but the worldwide container shortage, compounded by the Brexit impact on ports, meant the fully assembled and tested machine wasn't delivered until August 2021.
"Whilst there were some obstacles to overcome during the ordering and delivery process, our team was enthusiastic to finally take receipt of the Supercut in August. We'd been paying higher rental rates on the new factory for quite some time and we were obviously keen to recoup those funds and begin to turn a profit," says Manuel.
With the Supercut's installation complete, Avantek's technical support team went straight to work helping to train the MF Plastics team. Manual comments, "Our team were very appreciative of Avantek's engineers – they were informative, helpful and confident in their product."
"We went through a week's worth of extensive training on the Supercut's operation and maintenance, and by the following Monday we were happy to jump straight in to use the Supercut."
The proof is in the pudding
Since the arrival of the Supercut, MF Plastics Manufacturing is beginning to manifest the efficiencies it'd been hoping to achieve for more than a year – and the whole team are incredibly happy with the investment.
Manuel says, "Our window and door production has increased substantially. We're delighted with the reduction in PVCu wastage and ultimately, the future boost in margin this will bring. Once we're at optimum levels of manufacturing, our potential will only be limited by the storage capacity onsite. Our business is thriving!"
Avantek's Jamie Munday comments, "We're delighted that after all the setbacks and unforeseen delivery issues, our 50th Supercut is finally installed in its new home at MF Plastics – and even more delighted that they are already seeing the benefits!"
Learn more about MF Plastics Manufacturing on their website at www.doubleglazingmanufacturing.com.