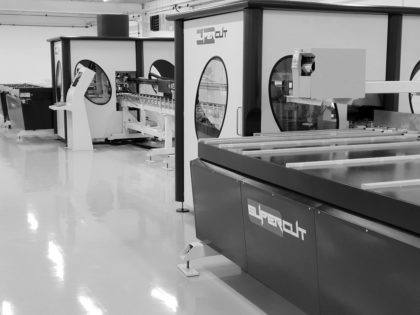 SuperCut 6
Cutting and Machining Centre
Description
Created with the larger fabricator in mind, the Supercut6 is designed to efficiently product 800 – 900 frames per week depending on mix.
Enquire Now
Download Brochure
Full Description
Arriving with Windows 10 software, the Supercut6 by Avantek Machinery seamlessly meshes into your current window fabrication software for the ultimate in precision profile optimisation.
With further improved efficiency, the Supercut6 simultaneously performs machining and cutting for even greater output.  The Supercut6 measures in at 20.3m x 3.6m and requires an abundance of space – but with the help of Avantek's expert team they'll help arrange your machinery in a way that eases production and allows your fabrication process to run effortlessly.
For further information on the revolutionary Supercut6 by Avantek Machinery, including stock and delivery availability, download our brochure and contact the Avantek team on sales@avantekmachinery.co.uk.
Product Features
Auto-measuring and re-optimisation for off-cuts
Automatic 10 bar in-feed table
Fully integrated dynamic batch optimisation software
Windows 10 software
10/12 programmable routing motors
Zebra thermal label printer
Twin bag extraction
Waste conveyor for easy waste removal
All parts available from stock
Dedicated engineers for online and telephone support
Technical Data
| | |
| --- | --- |
| Working Voltage | 400 V 50 Hz |
| Drawing of Current | 25 A |
| Electrical Power | 30 CW |
| Feeding Min. | 5 x 4,00 qmm |
| Starting Fuse | 32 A |
| Operation Connecting to Ground Min. | 6 qmm |
| Sound Level | <= 85dB(A) |
| Consumption of Air | Ca. 850 l/min |
| Compressed Air Connection | 5 x G¼ |
| Working Pressure | 8 bar |