Started over 35 years ago by Managing Director Dave Fletcher, Lytham Window Company is the longest established fabricator and installer of UPVc windows, doors, and conservatories on the Fylde Coast.
Based in Blackpool the company focuses on servicing the Fylde Coast and surrounding areas. Though their primary customer base is retail, they also supply trade and developers, and have worked with large, reputable companies such as Baxter Homes and Kensington Homes.
Time for an Upgrade
In March 2021 the company upgraded their machinery, taking delivery of a SuperCut 5 Cutting and Machining Centre from Avantek Machinery. Speaking on the decision to invest in new equipment, General Manager Ted Kirkham said, "The machine we were replacing was around 16 years old and worn out. Although it had served us well, It was becoming less efficient. We wanted something with like-for-like specs in terms of cuts and prep's, but with upgraded technology to continue a reliable supply of quality products to our customers."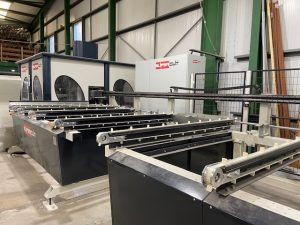 As a subsidiary of parent company Quanex, Avantek Machinery is a part of something bigger. This allows the company to leverage economies of scale and has led to the development of close relationships with its overseas suppliers. One result is significantly reduced lead times for Avantek customers.
Ted continues, "Of course having made the decision to upgrade, we wanted to do so with as little disruption to production as possible, so waiting times and ease of installation were important considerations."
"The turnaround time from placing our order with Avantek Machinery to taking delivery was faster than alternatives we'd considered would have been, and the installation went very smoothly."
New Tech New Benefits
The Supercut 5 is designed with speed, accuracy, and quality in mind, which it achieves using the highest-grade components and latest software.
When asked about the benefits the upgraded technology have brought, Ted replied, "The software is impressive. It's optimised to reduce waste and maximise energy efficiency, both crucial in today's climate of soaring costs. The training the guys from Avantek gave our team was fantastic and demonstrated how user-friendly the new SuperCut 5 is, and it has been quick and easy to get to grips with"
He added, "Another feature we're finding impressive is the network connectivity, which enables remote assistance and is extremely useful. It's like having a team of professionals onsite 24/7."
Peace of Mind
A further benefit of being a part of something bigger is that Avantek Machinery can afford to keep a stock of essential spare parts. Sales Director Jamie Munday states, "Here at Avantek we pride ourselves on our quality driven approach to manufacturing and customer service. We fully understand the detrimental impact downtime can have on fabricators, who must deliver on timescales agreed with their customers, to preserve their own professional reputation as well as the reputations of the installers they supply."
He continues, "In addition to ongoing training and technical support, one of the ways we limit disruptions to productivity is by ensuring rapid replacement of consumable parts. We are able to do this by holding stock in the UK."
Speaking on the same topic, General Manger Ted said, "We've been running the machine for over a year now and haven't encountered any major problems. It's also reassuring to know that Avantek hold a stock of consumables and spare parts, so if anything does happen, we can rest assured things will be resolved quickly."
"The new SuperCut 5 is proving reliable, energy efficient, and is consistently producing results to the exacting standards our customers demand."
Read more about Avantek's uPVC and aluminium window fabrication machinery at: https://www.avantekmachinery.co.uk/machinery/