Established nearly five decades ago, family-owned and operated fenestration company Sheffield Window Centre is a well-recognised, well-respected Yorkshire business. Known for its commitment to high-quality finishes and courteous yet efficient customer services, Sheffield Window Centre (SWC) prides itself on being the local double-glazing company that families can trust.
Being in operation for so long means the company has gone through its fair share of fabrication machinery. Whether modernising existing machinery or replacing those at their end of life to ensure quality and efficiency, when it came time to secure new machines, SWC's Managing Director Ian Hunter knew just which company to turn to – Avantek Machinery.
Building strong foundations
Sheffield Window Centre has been an Avantek Machinery customer for nearly twenty years, back when it was still known as Wegoma GB. Over the years, Ian has built a rock-solid relationship with Avantek Sales Director Gary Mayer in particular, who has had a positive influence on most of the machinery that Ian ultimately ended up purchasing to use in the company's fabrication operation.
"I can honestly say that the advice Gary has provided us regarding window fabrication machinery has been infallible," remarks Ian.
"There have been many occasions when Avantek suggested certain machinery for our company, but we chose not to purchase at that exact time. Once we were ready and had the machine installed, however, I'd always find myself going back to Gary to say he was right about what that particular machine would do for us!"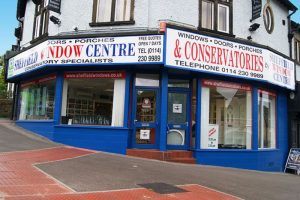 Visiting the showroom
Prior to the COVID-19 outbreak in 2020, Ian and his team made the short trek down the M1 to Avantek's state-of-the-art showroom in Derbyshire, to see Avantek's flagship Supercut cutting and machining centre in action and find out if it could work for their premises.
"While incredibly efficient, the Supercut just wasn't suitable for our factory, as we didn't have the space required to fit either model," Ian explains.
"While we were there, however, we looked at the Wegoma 4-head Auto Welder. Gary explained all the benefits, including the potential time savings, quality consistency and energy efficiency – but like all the times before, we didn't make the jump to purchase the welder at that time.
A sound investment
"Fast-forward to 2021, our current welder was on its last legs, so we really had to invest in a new one. Once again, I trusted Avantek's advice and made the decision to purchase the Wegoma Auto Welder.
"After installation, it was easy to see why they'd recommended this model. It's fast, efficient and literally takes the thinking out of this part of the fabrication process. I'm delighted to say it's been a sound investment for Sheffield Window Centre," comments Ian.
The importance of trust
The biggest factor in Ian's machinery purchasing decisions really comes down to one thing – trust. Ian explains how his relationship with the Avantek team is an integral part of the process:
"Having someone you can trust when you need something as crucial as machinery is invaluable for a window fabricator. Since the first time we began doing business with Avantek, they've never given us advice that wasn't honest, impartial and incredibly helpful.
"All the benefits we've been told about making efficiencies or increasing production without increasing manpower have materialised and I don't even question them now – I trust the team implicitly."
The ongoing machinery investment at Sheffield Window Centre ensures the products it fabricates are of the highest quality. View the full range of products and services by visiting www.sheffield-window-centre.co.uk.
If you're looking to make efficiencies in your fabrication operation, need advice about factory layout or machinery or want to upgrade machinery that is coming to its end of life, contact Avantek Machinery at sales@avantekmachinery.co.uk.