For nearly a decade, Bristol Windows has built a reputation for high-quality products and an exceptional commitment to its customers. When the coronavirus pandemic reached British shores in 2020, it impacted many businesses – which Bristol Windows used as an opportunity to change its processes and upgrade its machinery.
The sharp increase in demand seen by window fabricators across the UK from Summer 2020 meant that Bristol Windows soon had the funds to upgrade existing machines that had reached the end of their useful life. This provided the company with opportunities to make efficiencies, increase productivity and decrease scrap rates and occurrences of human error.
The right machine for our requirements
Adrian Price, one of Bristol Windows' Company Directors, explains:
"We were fortunate that demand in our sector was exceptionally high following the initial lockdown, meaning we were able to save for replacement machinery. The team wanted to make efficiencies by replacing a double mitre saw and two copy routers that required manual execution and were prone to human error.
"For years, we had used the same machinery provider – but for such an important purchase we wanted to ensure we were getting a good deal for our company and the right machine for our requirements. Pernamatic, the manufacturer of our CNC Corner Cleaner, recommended we contact Avantek Machinery to discuss the benefits of purchasing one of its Supercut cutting and machining centres – so that's what we did."
During the research phase of the process, Bristol Windows brought in their usual machinery provider as well as Jamie Munday, Sales Director for Avantek Machinery. Adrian comments, "Jamie was so laid back, genuine and helpful throughout the process – very different to the typical salesman. He was on the ball when it came to replying swiftly to our questions and never tried to 'hard sell' to us."
Choosing Supercut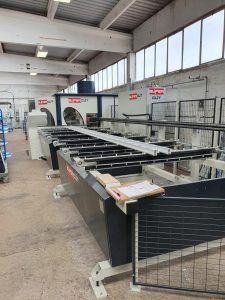 Bristol Windows began looking at the Supercut because of the productivity it could bring to the business. The team had seen the machining and cutting centre in action at other fabrication companies, and it had long been Adrian's vision to have one of our own.
He explains, "The Supercut produces the kind of quantities that fabricators dream about. We needed to improve our manufacturing processes and I knew a Supercut could help turn our vision into a reality.
"After a few months of back-and-forth conversations – with us ensuring that the Supercut would meet our needs and Avantek providing its timeline for possible delivery – we put in the order for our very own Supercut. From order through to installation, the entire process was seamless!"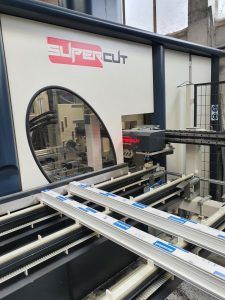 Installation and training
From the time Bristol Windows ordered its Supercut to the installation day, a few months had passed, due to worldwide shipping issues and Brexit-related port delays – and the team was more than ready to receive its machine!
"It was a big week for us – everyone was so excited to get the Supercut installed," Adrian remembers.
Dave Fox, Avantek's Supercut Technical Manager, spent the entire week in Bristol ensuring that the installation went smoothly and also training the team on how to operate their new machine.
Adrian continues, "The training was very thorough and Dave was more than willing to answer any of our questions or help with any issues that arose after the Supercut was installed – even when the issues weren't directly related to the Supercut. It was fantastic!"
Reaping the benefits
"Looking back, ordering a Supercut was a huge risk for our business – but we wouldn't change a thing," Adrian comments.
"Our overall productivity after the installation increased by upwards of 40% and what was once a two-man, manual job to operate the previous three machines was now a one-man automated job.
"Not only has the Supercut increased productivity and efficiency, it's reduced the amount of waste generated from production – allowing us to maximise the usage of our stock.
"We are very pleased we made the jump to Supercut. It's made – and continues to make – such a positive impact on our fabrication operation!"
Learn more about Bristol Windows at https://www.bristolwindowsltd.co.uk/.
Discover Supercut – the cutting and machining centre with a difference.