When a power surge damaged a critical electronic component leaving family-owned Bonmahon Joinery's production line completely out of order, their incumbent machinery supplier was unable to resolve the issue.
As a window and door fabricator-installer the company's team is made up of highly skilled joiners, which allowed an emergency return to hand cutting and manual manufacturing methods – though this put the business under considerable pressure and drastically reduced productivity.
With his faith in the existing machinery supplier's reliability badly shaken, Bonmahon founder and Director John Roche began searching for a new one, with excellent customer service and reliable technical support at the forefront of his mind.
A recommendation from a fellow fabricator and existing Avantek Machinery customer during the 2018 FIT Show led John to approaching the company.
John says, "I had a great conversation with Nigel Bishop at the Avantek stand. He fully understood my requirements and impressed me with his industry knowledge when introducing Avantek's product range."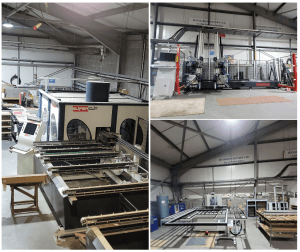 "Nigel took us through the Supercut 5 cutting and machining centre's operation and functionality, and I got a clear sense of how the system would benefit my business. But crucially, the priority Avantek places on aftersales service really came through and I felt extremely confident in starting a partnership with the team," John continues.
Since Nigel and John's first meeting, Bonmahon has established a close working relationship with the Avantek team and invested well over £750k in upgrading the company's machinery. This includes a Supercut 5, an Urban corner/transom cleaner and a Wegoma quad welder.
Confidence in the partnership has more recently seen Bonmahon switching its PVCu profile supplier too. As part of the Quanex group, Avantek's sister company is leading PVCu systems house Liniar, with both following the same customer-focused ethos.
Discussing the journey John explains, "The manufacturing process is now a lot smoother with the upgraded equipment. Both our efficiency and the quality of our finished products have significantly improved, and we're also finding the Liniar profiles very straightforward to work with."
John's daughter Gillian, who helps run the business, tells us, "We're manufacturing the best windows we've ever made in terms of overall performance. We're out in the countryside on the Atlantic coast, a really exposed location and we need a product that can withstand harsh conditions such as strong winds and belting rain."
Gillian continues, "We've found we get a lot fewer call backs now, especially for leaks in stormy weather. Catering to our customers' different tastes has also become easier as the colour options and made-to-order combinations are much more accessible, meaning we can now offer more bespoke options without the longer waiting times we were experiencing before."
Nigel Bishop, Liniar's Group Sales Director comments, "Bonmahon has gone from strength to strength and it's fantastic to see John and his team excelling. Their improved efficiency and customer satisfaction is testament to the investment they've made in the business and I am very proud that both Avantek and Liniar have been instrumental in this success."
Bonmahon is currently outputting around 150 frames per week, mainly serving the retail sector. John concludes by commenting on his plans for the future, stating, "We're now looking at increasing production and supplying to the trade. There's one more welder we're considering to further boost our capacity and the Avantek team are helping us to review our options. We'll see what the New Year brings!"