PVCu window and door fabricator Pearl Windows has announced investment of almost half a million pounds in machinery at the start of 2021. The Liniar fabrication specialist in Lancashire has committed to the spend following another year of record growth, with the machinery helping to increase capacity at its extended site by an additional 30% on top of current volumes.
Pearl's owner and Managing Director Jeff Walsh told us his strategy for 2021 will focus on further organic growth. This will be achieved by helping Pearl's customer base to grow, thanks to the benefits offered by its 'Signature Collection' for installers.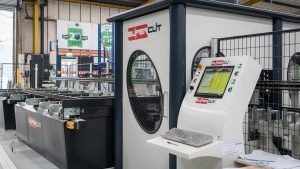 "We now have a dedicated person in-house offering marketing and IT support to our customers. Mark Gore will be helping customers understand the benefits of the full range of Liniar products we offer, as well as the support tools available to them as a Signature customer – including our online virtual showroom," explains Jeff.
"Our newest product, the double-rebated Resurgence timber alternative window, features Timberweld® joints as standard. Launched in 2019, this is increasingly popular with our customers, and is a real opportunity for growth in 2021."
Investment in machinery
To assist with this growth, Pearl Windows has invested almost £500k in machinery for its extended site in Bolton, which services installers all over the UK. Amongst a range of additional welders, Pearl has ordered Avantek Machinery's flagship Supercut 6 cutting and machining centre, taking its total onsite machining centres to a staggering seven – five of which are now Supercuts.
The reason Pearl has chosen a Supercut again is simple – the team knows it works.
Jeff continues: "With four Supercuts already operational, it was an easy decision to choose Supercut again. We've already invested £60k in having Supercut spares on the shelf for our existing cutting and machining centres, to minimise any breakdowns. In addition, we have two dedicated operators who've used the machines from the start – they've become Supercut ambassadors and can train any new staff on the machining centres themselves.
"It helps that the software is also MS Windows-based, so it's familiar to users and easy to learn. All of these factors combined made it logical to order another Supercut when we were ready, and we're looking forward to having it installed next week!"
Like many other Liniar fabricators, Pearl saw business boom from July 2020 onwards, as homeowners scrambled to spend unused holiday money on home improvements and construction on new builds returned to full pace after the first lockdown.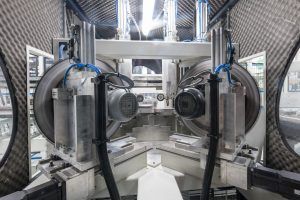 Pearl was not alone in having to extend lead times during this time, due to supply chain delays – but Jeff comments that this has actually had the effect of improving their order book.
"In our opinion, the industry push for 5-day lead times wasn't really helping anyone. We've all had to focus on what's really important, and have taken the decision to stick to longer lead times for the time being – 2 weeks for white windows and 4 weeks for foiled. This allows for more time spent on quality control measures and checking, meaning we're all more likely to get it right first time."
Pearl Windows is a loyal Liniar and Avantek customer, having fabricated Liniar windows since 2012 and purchased machinery from Avantek since 2015. They've seen the benefits of a machinery company and a profile company working so closely together, including tooling and software set up being more streamlined, and Jeff would recommend Avantek Machinery as a supplier.
Jeff concludes: "These have been challenging times, with increasingly fast changes required. With Avantek's help, we're making sure our business remains flexible and adaptable in order to cope with whatever future challenges lay ahead. Adding a fifth Supercut to our operation, with the reliability and quality that brings, is part of that strategy, and we look forward to the benefits it will add."