Overall equipment effectiveness (OEE) is a term coined by Japanese citizen Seiichi Nakajima in the 1960s to evaluate how effectively a manufacturing operation is utilised – and the purchase of a Supercut 6 from Avantek has greatly satisfied one man's 'OCD with OEE'.
Matt Grooms, Site Manager of Solidor's door frame and panel division in Stoke-on-Trent, is a self-confessed 'statistic geek' who has gone to great lengths to measure the impressive improvements that the new cutting and machining centre has brought to the operation.
Composite kings
Formed in 2004 as a sister company to Nice Door Panels, Solidor has gone from strength to strength as the leading force in the composite door industry. Increased demand meant that new premises were required to house the production of the panels and frames and this provided the ideal opportunity to look into new machinery to improve efficiency.
"We moved to the new site in May 2015, initially for the panel production side of the business," explained Matt. "We'd planned to also produce the frames in the new factory too, but knew that we would have to invest in some new machinery to help us cope with increased demand.
"We'd heard a lot about the Supercut throughout the industry and after speaking to the guys at Avantek we knew it would be ideal for our needs."
Assessing the Supercut
With space allocated to accommodate the new machine, the deal was signed and installation quickly took place. Once up and running, Matt was in his element assessing the effect that the Supercut had on production.
"I'm very much focused on tracking effectiveness, keeping tabs on all aspects of production and how we can improve efficiency – you could say that I'm OCD about OEE!
"Having the new Supercut installed gave me the perfect opportunity to identify exactly how much the process performance had improved and after the expected initial teething problems that are inherent with implementing any major new machinery, the results have been very impressive.
Chart topper
"I've charted availability, performance, quality and overall OEE. Availability was affected slightly at the beginning because of those teething problems, but Avantek was incredibly quick to respond with technical assistance and engineer visits to get us running again without too much disruption.
"Performance levels have been consistently high, running between 80-90%, and the quality has been outstanding from the very beginning.
World class performance
"World Class Overall OEE for discrete manufacturing plants is generally considered to be 85% or better, with studies indicating that the average Overall OEE score for discrete manufacturing plants is approximately 60%.
"From August we have been regularly hitting an average of 80% OEE, with several days reaching over 90% – that's quite an accomplishment!"
As well as achieving outstanding levels of performance and quality, the Supercut 6 has provided Solidor with an additional financial benefit.
Impressive impact
"Because of the Supercut's superb labelling system, it has allowed us to take greater control of our off cuts and maximise the use of them, meaning an average weekly profile saving of between £1,000 and £1,900. That's an amazing saving over the course of a year."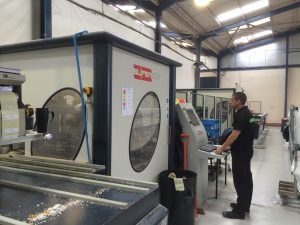 Matt has been so impressed with the impact that the Supercut 6 has had on production that they are already thinking about the next stage of investment.
"We've set a record of manufacturing 233 frames in a nine hour day – but we don't see any reason that we can't get that figure up to 300. In fact, we've been discussing the possibility of purchasing a second Supercut 6!"
Click here for more information on Solidor.
To find out more about Avantek's Supercut click here.