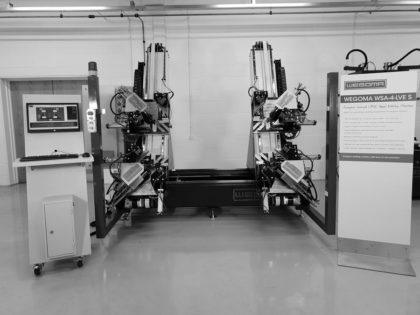 Wegoma WSA-4-LVE-S
Compact Vertical Quad Welding Machine
Description
Compact and versatile, the Wegoma WSA-4-LVE-S Compact Vertical Quad Welding Machine boasts a footprint of only 2.5m.
Enquire Now
Download Brochure
Full Description
The industry's smallest quad welder can be placed back to back with another machine or against a wall. Approximately half the size of a standard quad welder, the WSA-4-LVE-S by Wegoma boasts four automatic heads with single or double frame welding capabilities for both frames and sashes.
Manufactured from heavy duty steel, the WSA-4-LVE-S avoids any twists or deflections. The vertical movement of the machine is done via axis drive motors along a precision linear rail using four linear bearings per head. Positioning for heads is controlled with servo motors and a high precision lead screw.
Fully programmable including a 'Burn to Size' programme, the WSA-4-LVE-S is effortless to use. For more information on the Wegoma WSA-4-LVE-S including stock and delivery information, contact the Avantek team on sales@avantekmachinery.co.uk.
Product Features
Half the footprint size of a standard quad welder
Automatic 4 head PVCu welder with single frame or double frame welding capability for frame or sash.
Heavy duty steel frame, to avoid any twist or deflection
Vertical movement via axis drive motors along precision linear rail using 4 linear bearings per head
Horizontal head positioning is controlled with servo motors and a high precision lead screw
Small operating footprint that allows the machine to be placed up against a wall or back to back with another machin
Fully programmable Windows PC with instructional graphics for ease of use
Twice the throughput in the same space
Burn to size program
All functions are electronically monitored with fault diagnostic facilit
Semi automatic frame/sash ejection to ensure easy removal of welded squares
Transom Program allows insertion of pre-welded transoms/H-Frames
Frame safety system detects finished frame to prevent moving into new cycle
Quick release profile block system. Profile blocks can be changed in seconds
Infrared safety system (magic eye)
Optional 6ft safety fencing for 3 sides
Complete Pneumax air system
Technical Data
| | |
| --- | --- |
| Machine Dimensions | 2550mm (w) x 1900mm (d) x 2100mm (h) |
| Machine Weight | 2200kg |
| Minimum Weld Size | 295 x 325mm |
| Maximum Weld Size | 1400 x 1400mm |
| Maximum Profile Height | 200mm |
| Minimum Profile Height | 40mm |