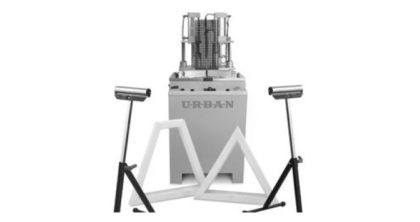 URBAN AKS-1020
Single-head Welder
Description
Arriving with stability and flexibility, the AKS-1020 Single-head Welder from URBAN achieves welds on uPVC window profiles from 30° - 180°.
Enquire Now
Download Brochure
Full Description
Completely adjustable, each welding parameter on the AKS-1020 can be set individually, including welding temperature, heating time, joining time, fusing pressure and joining pressure. Arriving with clamping magnets allowing a quick change of weld fixtures, this URBAN single-head welder is an excellent addition to any fabrication process.
For further information about the URBAN AKS-1020, including stock and delivery availability, please contact the Avantek team on sales@avantekmachinery.co.uk.
Technical Data
| | |
| --- | --- |
| Weight | 205kg |
| Height | 1550kg |
| Width | 700mm |
| Power supply | 230V/50-60Hz L1-NE-PE 1.5kW |
| Compressed air supply | 7 Bar |
| Air consumption | 23 Litres |
| Welding angle range | 30° to 180° |
| Minimum profile height | 30mm |
| Maximum profile height | 130mm |